Nudge
Nudge is our secret weapon. It's a piece of technology we've developed in house that identifies influence within any online consumer experience.
It's a thin slice of technology which can be applied to anything where a consumer interacts online, whether that's a Facebook app, a webpage or ecommerce.
Nudge sits on the backend and identifies which of the visitors are the most influential. We define influence as the ability to get others to act, so we measure that.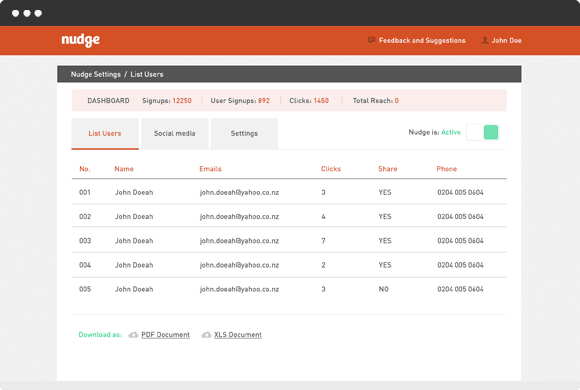 We have a massive deck of examples and ideas showing Nudge integrations. Download a PDF with a few or give us an email for the most up to date examples.
Facebook Apps
The number one way we execute Nudge is through a Facebook app. We build a custom front end experience for you - whether it's a hot-or-not mechanic, voting or user generated content we can build any creative idea on top.
The benefits of integrating Nudge into Facebook is that when you run it, you:
Generate likes for your page
Impart a brand story with everyone who completes it
Build your email database
Drop remarketing cookies
Nudge can be integrated too, we have an API which allows us to:
Get influence data into CRMS
Integrate into apps, or games even
Pair influence data with other sources
Wider Strategic View
Wider Strategic View
We see this as improving the success of all your digital marketing but also slotting well into our Influencer & Advocate strategy.